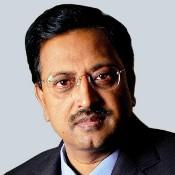 A local court in Hyderabad on Thursday put the hearing of arguments on framing of charges against former Chairman of Satyam Computers B Ramalinga Raju and nine other accused in the multi-crore accounting scam in the IT firm to August 24.
The CBI informed the XXI Additional Chief Metropolitan Magistrate court, specifically on its allegations mentioned against Satyam accused in two main chargesheets besides the supplementary chargesheet.
Following a suggestion by the defence counsel seeking clarity for each offence, Magistrate BVLN Chakravarti had on Wednesday directed the Central Bureau of Investigation to inform it in a specific way on its allegations and sought to provide more clarity on the charges.
The court then put the next hearing to August 24 after the defence sought time to contest the prosecution's allegations. Meanwhile, the defence is likely to submit before the court two sureties towards Raju's bail by late afternoon.
The High Court while granting bail to Raju ob Wednesday had asked him to provide two solvent sureties and bonds for Rs 20 lakh each, in the trial court.