With Cairn Energy Plc voluntarily offering to meet government conditions, the Oil Ministry may find it difficult to nix its deal to sell majority stake in Cairn India to Vedanta Resources.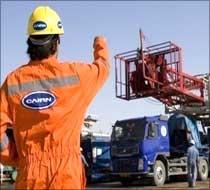 The Oil Ministry has shown signs of discomfort at a non-oil firm taking control of a company whose main property is the Barmer district oilfields in Rajasthan and has been in a huddle for the past two weeks combing through the deal.
 "I think the ministry never had a case against Vedanta. Legally speaking, they cannot stop Cairn Energy from selling up to 51 per cent stake in Cairn India to Vedanta," a source in know of the development said.
Cairn India's contract with the government for three oil and gas producing properties including the one in Rajasthan, do not provide for prior government approval in case of a change of control happens at the corporate level.
The only contracts that provide for government permission in case corporate ownership of Cairn India changes are seven exploration blocks the company had won under New Exploration Licensing Policy.
"Hypothetically speaking, if the oil ministry was to act tough, Vedanta can tell the ministry to keep the exploration blocks and walk away with the Rajasthan oilfield, the Ravva oil and gas field (in eastern offshore) and the Cambay block," he said.
"The $9.6 billion that Vedanta is paying is for these three fields and not for the exploration areas."
Also, the Production Sharing Contracts that Cairn India has signed with the government for exploration and production of oil and gas, provides for government giving or denying it consent for change of ownership in "reasonable time period" which it is to use to establish credentials of the new party.
"Vedanta is a credible Indian group and world's fifth largest miner. It is willing to undertake all financial obligations for performance of Cairn India's obligations under the PSC. Also it has promised to keep Cairn India an independent entity like it exists now. So where is the case for rejection of the deal," the source said.
Besides, the letter Cairn Energy Plc Chief Executive Bill Gammell wrote to Oil Secretary S Sundareshan last week addresses all concerns the ministry may have.
"Both Cairn Energy and Vedanta Resources are willing to comply with any reasonable conditions of the Government of India/Ministry of Petroleum and Natural Gas as may be necessary in the circumstances to ensure performance by Cairn India of its obligations under the PSCs," Gammell wrote on August 26.
Gammell said Cairn Energy was willing to comply with all contractual obligations in sale to Vedanta which was 10 times bigger than his own firm.