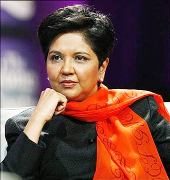 Pepsico plans to launch a $30 billion push into nutritional and healthy foods, its Indian-origin chief executive Indra Nooyi has said.
Nooyi said she wanted the company to treble the revenue gained from its 'good-for-you' ranges, which include Quaker, Oats, Tropicans and Naked Juice.
"We, as a company, have $43-bn in revenue. Of that, more than USD 30 bn is in what we call 'fun-for-you' products, such as treats, soft-drinks and chips," she told the Sunday Telegraph.
"We worked hard to make these treats healthier. That was the first part of the transformation. "The second part is the $ 10 bn that we have in the PepsiCo that represents good-for-you products. Our long-term goal is to figure how to grow this part of the business really fast."
Nooyi wants the $10 bn figure to rise to $30 bn in the next decade.
"The $10 bn to $30 bn is a goal. It's bold, but I think it's goal that is doable with some creativity," Nooyi said.
She said the company is very careful on nutrition for kids.
"We do not have a nutritious product we feel comfortable marketing to young kids. In terms of a processed snack for kids, we haven't yet said: 'this is a highly nutritious product for your, kids', because that is a high bar.
"I'm talking of kids under 10 years old. We want to make sure when we go there, we are absolutely above board."
Image: Indra Nooyi. | Photograph: Reuters