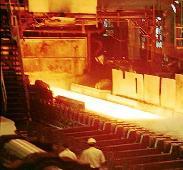 Tata Steel will spend Rs 5,700 crore (Rs 57 billion) on expansion projects in the next financial year. Around 70 per cent of the money (Rs 3,700 crore or Rs 37 billion) will be earmarked for domestic expansion.

Tata Steel plans to expand capacity to 10 million tonnes at Jamshedpur by August 2011 from 6.8 million tonnes.

To support this expansion, the company is also raising annual iron ore production 55 per cent to 17 million tonnes in India over the next two years.
The expansion is expected to cost Rs 1,100 crore (Rs 11 billion). The move is aimed at insulating its Jamshedpur plant from fluctuating raw material prices.

In its overseas projects, the company plans to develop iron ore and coal mines in Canada and Mozambique through two joint ventures. It also plans to develop a mini blast furnace under its Thailand subsidiary.

To finance these plans, the company is planning a rights issue, though some of the money raised will also go towards repaying part of its debt.
The company and its European subsidiary had a total debt of Rs 26,946 crore (Rs 269.46 billion) at the end of March 31 this year giving the company a debt equity ratio of  1.78.

Most of the debt is the result of the company's acquisition of the Anglo Dutch steelmaker Corus in early 2007 for about $13 billion.
The high debt raised the company's finance charges 36 per cent on a standalone basis. The company reported finance
charges of Rs 1,150 crore (Rs 11.5 billion) for the first nine months of the current financial year (the consolidated number of the company for the period is not available).

"If there are opportunities to put more equity capital in our growth projects that have very significant returns, we will look at doing so at the appropriate time," said Koushik Chatterjee, group chief financial officer of the company told analysts on Sunday.
"That will ease some amount of internal cash towards the repayment," he added.

The company has prepaid Rs 6,600 crore (Rs 66 billion) of debt in the current financial year. But it has  taken a fresh loan of a similar amount.

The company plans to repay Rs 1,600 crore (Rs 16 billion) to Rs 1,800 crore (Rs 18 billion) of debt in the current quarter through internal accruals.