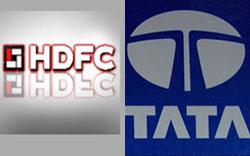 Two Indian firms -- Tata Steel and HDFC -- have made it to a list of the world's most sustainable companies compiled by media firm Corporate Knights.
Ratan Tata's Tata Steel has been ranked 90th, while mortgage lender HDFC cornered the 92nd position in the world's 100 most sustainable companies list, Forbes said attributing this to the Toronto-based Corporate Knights.
"To be considered sustainable, companies must squeeze four times more wealth out of every resource they use," Corporate Knight editor-in-chief Toby Heaps said.
US-based General Electric has topped the list, followed by San Francisco-based utility company Pacific Gas and Electric Corp.
Mail delivery firm TNT NV of Netherlands and Swedish clothing company H&M Hennes & Mauritiz have been ranked third and fourth, respectively.
Among others in the top 10 list are Finnish handset maker Nokia (5th), Siemens Ag of Germany (6th), United Kingdom's Unilever (7th), Vodafone (8th), UK-based capital goods firm Smith Group (9th), and Swiss company Geberit (10th).
Mining giant Rio Tinto and Internet search engine Google did not figure on the list.
"Google was shut out of the top 100 because of privacy concerns and issues related to its China operations," Heaps said.
The research was based on  ten environmental, social and governance performance metrics, including energy productivity, waste productivity, CEO-to-average-worker pay ratio and transparency.
"Corporate Knights relied on the companies to give it accurate data. When a company wouldn't provide information for one of the 10 metrics, Corporate Knights assigned it a null score for that category and then penalised it with an unfavourable transparency score," Forbes said.
While the list has the most number of firms from the UK at 21, America is at the second spot with 12 companies followed by Australia and Canada with nine each.
Food and beverages firm Diageo, Japanese auto maker Toyota Motor, British insurer Prudential, South Korean Posco, America's Coca-Cola, chip maker Intel are the other firms to figure in the sustainable companies list.
Heaps said in the overall list he found a 'European bias', which he credits to Europe having a developed society on limited land, which has forced European companies to learn to be efficient with their resources.
Moreover, he said that Europeans also perform well in the category of CEO-to-average-worker pay, because they don't give out huge stock bonuses.
"Many Japanese companies, five of which make the list, are as efficient as their European counterparts, but they lose points for leadership diversity because of a lack of women in their senior ranks," Forbes said, citing Heaps.