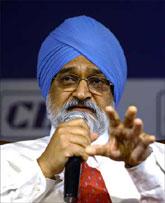 Planning Commission Deputy Chairman Montek Singh Ahluwalia on Monday expressed confidence that in the years to come India could emerge as the fastest growing economy in the world, beating China as the nation has yet to achieve its full growth potential.
"We have accelerated . . . not reached the full peak of our growth potential which could easily be 9 to 10 per cent. So, if India accelerates to say 10 per cent and China begins to decelerates you could have a situation where India grows faster than China," he told PTI at the conclusion of the five-day World Economic Forum meeting in Davos.
India has been growing by over nine per cent till the global economic crisis hit the economy and pulled down the country's growth rate to 6.7 per cent during 2008-09.
During the current fiscal, the economy is expected to expand by over 7.75 per cent, as indicated by Finance Minister Pranab Mukherjee in his Mid-Year Review of the Economy which was tabled in Parliament in December.
China clocked a growth of 10.7 per cent during the quarter ending December retaining its position as the fastest growing economy during 2009. India grew by 7.9 per cent during July-September 2009 quarter.
Ahluwalia, who participated in several sessions during the 40th annual meeting of WEF at Swiss Alpine resort, also emphasised that the impression about India has changed among the global investor community.