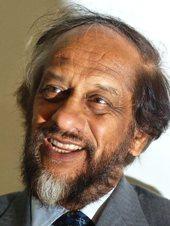 UN Intergovernmental Panel on Climate Change chief R K Pachauri on Tuesday dismissed as 'unfounded and baseless', claims that its findings on disappearing ice from the world's mountain peaks was based on a doctoral student's essay.
"The allegations (that the finding was based on an essay by a student and an article in a magazine) are totally unfounded and baseless. I maintain that the IPCC monitoring systems are still robust and solid," Pachauri told PTI.
The IPCC credibility has come under attack in the past few days for picking a report that Himalayan glaciers will melt by 2035 from a science magazine without peer-reviewing it, a fault later admitted and regretted by the climate body.
"Yes, there was only this error which we accepted and corrected as well when it was brought to our notice," he said.
On allegations over scientific errors regarding Amazon forests and disappearing of ice in world's mountain peaks, he said, "The IPCC is correct on its claim on both issues."
A UK media report had questioned the IPCC's decision to cite a World Wildlife Fund report to support its claim that 40 per cent of Amazon forests could disappear because of declining rainfall and even be replaced by tropical savannah.
The newspaper has also accused the IPCC of citing a magazine article by Mark Bowen drawn from anecdotes, and another, a dissertation written by a professional mountain guide and climate change campaigner Dario-Andri Schworer.
Pachauri has called the allegations a 'pack of lies' that he was enjoying profits as the IPCC chairman as well in holding the post of director general of The Energy and Resources Institute.
"Every single payment that I receive goes to TERI. The extra money that my organisation generates goes into the Lighting a Billion Lights campaign that TERI has launched. These allegations are nothing but a pack of lies," he had said at a press conference a few days ago.
Image: R K Pachauri