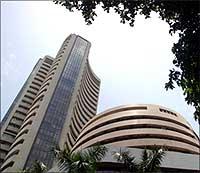 The markets flattered to deceive. The Sensex had surged at opening bell, touching an intra-day high of 16525, as the latest data showed a jump in manufacturing activity in the US and across Asia.
Only to shed nearly 400 points from the highs of the day. The Sensex closed at 16,163, weaker by 192 points, and the Nifty ended at 4,830, down 70 points. Realty, banking and PSUs were the top sectoral losers on the BSE.
The broader markets also lost their way, with the mid-cap and small-cap indices shedding about a per cent each. However, there were standalone outperformers; Uttam Galva and Shree Ashtavinayak hit the upper circuit of 20%, while Spice Communication, Enami and Reliance Media strengthened between 7% and 15% each.
Among the Sensex stocks, Jaiprakash Associates dropped 3.7% to Rs 135, Grasim shed 2.9% at Rs 2576 and Reliance Communications slipped 2.7% at Rs 168. Index heavyweight, Reliance weakened by 1.9% to Rs 1026. M&M and L&T were the other notable losers.
And NTPC slid 2.4% to Rs 206 after the government announced the floor price for divesting a 5% stake in the power utility company. The benchmark price for the further public offer has been fixed at Rs 201 per equity share, which is at a discount of about 2.5% to the prevailing market price.
On the other hand, HDFC strengthened by 1.5% at Rs 2419, Hindalco added 1.3% to Rs 151 and Sun Pharma appreciated by 0.4% to Rs 1514.
The market breadth turned weak at close. Out of 2,963 stocks traded on the BSE, there are 1,105 advancing stocks as against 1,790 declines.
SBI topped the value charts on the BSE with a total turnover of Rs 151.01 crore. This was followed by Tata Steel (Rs 126.07 crore), HDIL (Rs 87.91 crore), L&T (Rs 87.25 crore) and Unitech (Rs 86.46 crore).
IFCI led the volume charts with trades of 12.38 million, followed by Unitech (11.52 million), Suzlon (10.05 million), Ispat (4.71 million) and Hindalco (3.19 million).