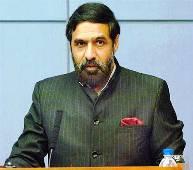 India is hopeful of concluding a comprehensive trade opening pact with the European Union by the end of the year, commerce and industry minister Anand Sharma has said. ". . .hopefully in 2010 (the foreign trade agreement would be ready). . .
"We have made good progress and are keen to conclude it," Sharma, who led a Federation of Indian Chambers of Commerce and Industry delegation, said in Budapest on Wednesday evening.
Talks for an India-European Union free trade agreement started in 2007 and the eighth round of negotiations was completed in New Delhi last month.
Indian officials engaged in the negotiations said the FTA is expected to conclude during the next India-EU summit-2010.
Sharma said the eighth round of talks was fruitful as the two sides made progress on several issues including services, a key area of interest for India.
"I am told by my officials that the round has been very productive and many of the issues on services and investment have been settled," Sharma said.
Industry body Ficci said the country's trade with the EU has the potential to reach $572 billion by 2015 once the FTA with the 27-nation economic bloc is implemented.
India's exports to the EU were $39.35 billion in 2008-09, while imports were $42.73 billion.
Major exports include coffee, tea, mineral fuels and apparels, while imports include organic chemicals, pearls and precious stones.
Image: Anand Sharma