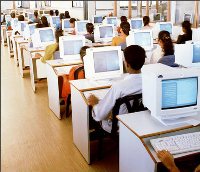 India's software and business process outsourcing exports are expected to rise 5.5 per cent to touch $50 billion in the current fiscal (2009-10), industry body Nasscom said on Thursday.
The estimation is in line with an earlier forecast of 4-7 per cent given by National Association of Software and Service Companies. The industry was optimistic to reach the $50 billion milestone export target in the current fiscal.
For 2010-11, it hopes that IT and BPO exports should grow at an annual 13-15 per cent to touch $56-57 billion as the slowdown peters out and the world economy recovers boosting demand for outsourcing.
The sector's export growth had been slowing down from 32 per cent five years ago to single digits of late.
Releasing the Indian IT-BPO sector performance estimates for FY09-10, Nasscom said 'export revenues for the Indian IT-BPO industry are expected to record a growth of 5.5 per cent, to reach $49.7 billion in FY 09-10.'
It said as industry emerges stronger from the global economic meltdown to post encouraging results, domestic revenues may also grow by 15-17 per cent in the next fiscal to touch Rs 76,100-77,500 crore (Rs 761-775 billion).
For the current fiscal the domestic market is expected to witness 12 per cent growth in FY09-10 to reach Rs 66,200 crore (Rs 662 billion).
Industry will continue to be a net hirer with direct employment expected to grow by 4 per cent and cross 2.3 million with over 90,000 jobs added in FY09-10, Nasscom president Som Mittal said.
Pramod Bhasin, chairman Nasscom and president and CEO, Genpact, said, "The performance of the industry this year is far stronger than what is reflected through the growth numbers."
The industry has reinvented itself by increasing its cost efficiencies, utilisation rates, diversification into new verticals and markets and new business and pricing models, he added.
"With a renewed value proposition, we look forward to a terrific future with growth estimates of 13-15 per cent in FY11 for the export sector and 15-17 per cent for the India market.
"Its a historic moment for the Indian IT-BPO industry as it touches the $50 billion landmark.
"The growth was led by domestic market buoyed by increased government spending in IT.
In addition, new areas such as engineering services and product development displayed phenomenal momentum clocking a combined revenue of over $10 billion," Mittal said.