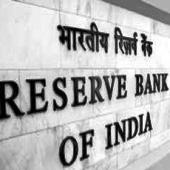 RBI deputy governor K C Chakrabarty said on Friday that banks' lending rates to certain segments like short-term corporate loans could go up owing to the mis-pricing, but felt that overall rates will be stable.
"Overall interest rates will remain the same. . . (However) segments, where interest rates are mis-priced, you could see some increase...like in short term corporate loans," Chakrabarty told reporters in Mumbai.
Banks generally lend to potential customers, primarily corporate clients, at much lower rates below their benchmark prime lending rate, which is often termed as sub-PLR rates.
The apex bank, exiting from its easy money regime, upped the cash reserve ratio, amount of money banks have to keep with the RBI, by 0.75 per cent last month.
The banking system has enough liquidity to fund the infrastructure sector over the next 2-3 years, Chakrabarty said, however, adding that in the long term the country's corporate bond market will have to be developed to meet the huge the investment demand.
Noting that the RBI has been approached by banks for mandatory liquidity exemption for infrastructure bonds, Chakrabarty hinted that this may not be allowed as there is a possibility similar demand may come for other instruments as well.
Banks had urged the RBI to exempt the bonds they issue to raise money to lend to the infrastructure sector from the mandatory liquidity requirement.
On banks offering cheaper home loans (teaser), as low as at eight per cent to woo borrowers, Chakrabarty said this benefit should be extended to the existing customers as well.
"We have no concern on teaser rates...you (banks) tease both new and old customers...don't leave only one segment," Chakrabarty said.
Another RBI deputy governor, Usha Thorat, had recently said that the banking regulator was concerned on teaser rates.
Thorat said banks need to ensure that borrowers will be able to service the rates after the offer period. The current level of inward capital flows, Chakrabarty said, did not pose any major concern to the regulator as it can be absorbed by the market.
"Up till now capital flows are managed by the market. We feel that there is no problem to manage this kind of capital flows," Chakrabarty said.
On the intervention of competition watchdog, Competition Commission of India on banks' loan prepayment penalty issue, he said banks will have to reach in agreement on the matter and hinted the apex bank intervention is unlikely.
"We don't come into the picture there," Chakrabarty said.
The financial inclusion efforts in the banking industry, Chakrabarty said, should be executed in a planned, systematic and calibrated manner to benefit the unbanked in the country.