China is on its way to become a global leader in scientific research, while India has a long way to go, according to data issued by a Geneva-based organisation on international patent filings.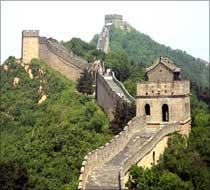 The World Intellectual Property Organization data for 2009 reveal that Indian companies and scientists filed one-tenth of patent applications filed by their Chinese counterparts during the same period.
China, for example, filed 7,946 patent applications last year, compared to 761 by India, followed by Singapore (594), Brazil (480), and South Africa (389), among others.
In fact, India's performance in patent filings came down sharply from 1,070 in 2008, an indication that there is no sustained push to accelerate research and development activities.
In the top 15 countries of origin of patent applications last year, China was ranked fifth after the United States (45,790), Japan (29,827), Germany (16,736) and South Korea (8,006).
Filing of patent applications under Wipo's Patent Cooperation Treaty enables companies to secure patent protection in various countries.
It is a measure for knowledge-based economy and a barometer to judge the spread of innovation-based companies in each country.
Though international patent filings dropped by 4.5 per cent last year with total applications of about 155,900, compared to the previous year, the decline in patent applications is not as sharp as originally anticipated, says WIPO director-general Francis Gurry.
A recent report by the Financial Times had suggested that China would displace the US as the world's leading producer of scientific knowledge in term of volume by 2020. China also dominated the BRICs countries - Brazil, Russia, India and China - in peer-reviewed papers.
China produced almost 112,318 scientific papers in 2008 as compared to 332,916 papers in the US.
The stark differences between India and China are due to the underlying differences in their overall economic activity. While software and services dominate the Indian economy, new manufacturing activities are driving China's growth.
Up until now, industrialised countries like the US, Germany, Japan, France, Britain, the Netherlands, Switzerland and Australia dominated the global rankings in patent filings.
Among companies seeking patents for their new inventions, China's Huawei Technologies Co Ltd came second with 1847 fresh patent applications, compared to Japan's Panasonic Corporation, which is first with 1,891 patent applications. Strangely, there is not one Indian company among the 100 companies.
Although many of them continue to occupy the top positions, the emergence of Korea and China as two leading innovation-driven economies brought a change in the prevailing rankings.