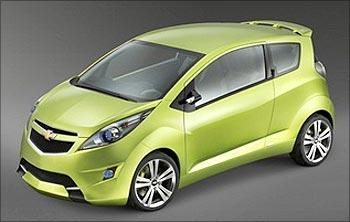 General Motors India on Friday said it will double production from its Talegaon facility from March onwards, four months ahead of schedule, to meet increased demand in the market, and will also hire 800 people in the next seven to eight months.
"Last month, we had record sales and the demand is going up. We had earlier decided to start second shift in the Talegaon facility (in Maharashtra) from June but now it will be advanced to March," General Motors India (GMI) vice president P Balendran said.
He said from March onwards the firm will make 400 units every day from the Talegaon, against 200 units a day now.
GMI produces its compact cars Chevrolet Spark and Beat from the Talegaon facility, while other models such as Chevrolet Tavera, Optra and Aveo are made at Halol in Gujarat.
"We are also considering to go for a third shift production at the Halol facility, which is producing 250 units per day," he added.
Last month GMI sold 9,421 units, its highest-ever monthly sales in over 13 years of its operations in the country.
On the manpower front, Balendran said the company will be hiring more to meet additional requirements.
"Currently we have 4,000 people across India, we will add 800 more staff in the next 7-8 months," he said.
Asked about launching products from General Motors' joint venture with China's Shanghai Automotive Industry Corp (SAIC), he said: "We will have light commercial vehicles and passenger cars."
While all cars will be branded under Chervolet, branding of LCVs will be decided after a market study, Balendran added.
"We have not finalised the products in cars but three will be different product under LCVs these will be pick ups, MUV and vans," Balendran said.
On the investments, he said it is too early to talk about.
GMI is eying to sell about 1.2 lakh (Rs 120,000) units this year, against 70,000 units last year, up by over 70 per cent, he said.
"Eventually, when SIAC vehicles are also launched in India, we aim to sell 3 lakh (Rs 300,000) units. We aim to export 20 per cent of total sales by 2011 mainly in the Asia-Pacific region," Balendran said.
Currently GMI sells very small numbers to Nepal and Bhutan, he added.