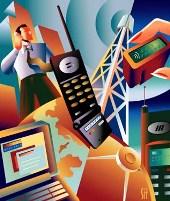 Concerned over increasing number of complaints about call drops and network congestion, among others, Telecom Regulatory Authority of India has written a letter to heads of leading operators, including Sunil Mittal and Anil Ambani, to know what's being done to remedy the same.
"I am writing to you personally on a subject that I feel has assumed a proportion requiring your personal attention," Trai chairman J S Sarma said in a letter to the heads and Chief Executives of leading telecom service providers.
Besides Sunil Mittal (Bharti Airtel) and Anil Ambani (Reliance Communications), Sarma has written to Sanjeev Aga of Idea, Anil Sardana of TTSL, Marten Pieters of Vodafone, Kuldip Singh of Mahanagar Telephone Nigam Limited and Kuldeep Goyal of Bharat Sanchar Nigam Limited.
He, however, chose not to send letters to the new operators as they are still in the process of optimising their networks and have very low subscriber base.
Sarma's missive comes in the wake of inadequate response from companies to complaints from subscribers.
Trai looks at various parameters to define quality of services by the operators. These include accessibility of call centres, response time to the customers, call drops, voice quality and network congestion.
"I keep getting letters regularly from telecom subscribers expressing their frustration at the inadequate and sometimes 'nil' response from your call centres as well Nodal Officers/Appellate Authorities to their complaints," he said in his letter.
"I am sure you (operators) are also receiving similar letters. While your company, no doubt, places a high value on redressing customer complaints, there appears to be considerable scope for improvement in the services being rendered by the persons in your organisation/agencies entrusted with this," Sarma said.
Some of the chief executive officers have already submitted their replies to Trai while others have expressed the desire to make detailed presentations, sources in the know said. Trai has been monitoring quality of services on a quarterly basis and analyses the congestion in each operator's network.
Officials said that operators have been asked to show Trai's latest QoS benchmarks on their websites for the subscribers to know about the services offered by the players.
"I request you to kindly review the arrangements at your level so that significant improvements can be brought in quickly and let me know the steps being taken in this regard," Sarma said.