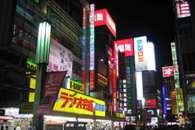 Retaining its position as the world's second largest economy, the Japanese economy grew at a faster-than-expected pace of 1.1 per cent in the last three months of 2009.
China, the fastest growing large economy, clocked a growth of 10.7 per cent in the December quarter.
The Japanese Cabinet Office on Monday said the island nation's economy, which is primarily exports-driven rose 1.1 per cent in the fourth quarter of 2009.
On an annual basis, GDP expanded a much higher pace at 4.6 per cent. For the whole of 2009, the Japanese economy shrank 5 per cent and is valued at 474.92 trillion yen (about $5.1 trillion), according to the official data.
Last month, China said its 2009 GDP was "33,535.3 billion yuan (about $4.91 trillion),up by 8.7 per cent at comparable prices."
Severely hit by the global financial meltdown, the Japanese economy has slumped into one of the worst recessions in recent history.
This has brought down the GDP gap (in terms of US dollars) between Japan and China to a narrow range. Japan climbed out of recession in the June quarter of 2009 after clocking a growth of 1.3 per cent.
Meanwhile, the better-than-expected Japanese growth in the December quarter was mainly driven by better exports and effects of stimulus measures.
In 2009, the Chinese economy expanded at a stunning rate of 8.7 per cent, primarily on the back of improved domestic output driven by government stimulus and tightly held yuan.
Despite the GDP rising at a good rate in the December quarter, the exports-driven Japanese economy is expected to see a sluggish growth in the near-term.
Going by the latest figures, the Japanese economy witnessed zero growth in the September quarter of 2009.
Interestingly, preliminary estimates pegged GDP to expand at 1.2 per cent for the same period and the figure was later revised to 0.3 per cent. To bolster the recession-hit economy, Japan had unveiled stimulus measures worth over $130 billion.