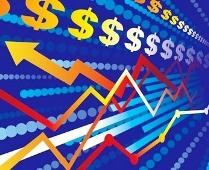 The economic expansion in the euro zone -- the grouping of 16 nations that share the common currency euro -- fumbled in the fourth quarter of 2009, with the GDP growing just 0.1 per cent.
Signalling that the region's economic recovery is weak, the December quarter figures also come at a time when the euro area is grappling with spiraling debt crisis in Greece. In the third quarter of 2009, euro zone GDP rose 0.4 per cent.
"GDP increased by 0.1 per cent in both the euro area and the European Union during the fourth quarter of 2009," the estimates released by the Eurostat showed on Friday.
As per the data, except France, none of the other big euro zone economies saw growth in the December quarter.
Germany, region's largest economy, registered zero growth in the last three months of 2009, while French GDP expanded 0.6 per cent.
Two other economic majors -- Italy and Spain -- witnessed their GDP fall 0.2 per cent and 0.1 per cent, respectively.
According to Eurostat, the statistical office of the European Union, Greece's economy shrank 0.8 per cent in the fourth quarter of 2009.
Greece is facing severe debt crisis, with the country's deficit at more than 12 per cent of the GDP. On Thursday, European leaders agreed to support the country but the details are yet to be announced.
"Over the whole year 2009, GDP fell by four per cent in the euro area and by 4.1 per cent in the European Union," Eurostat noted.
Separately, Eurostat said industrial production in the euro zone fell by 1.7 per cent in December 2009 compared to the previous month.
With the region seeing tardy economic revival, the European Central Bank is expected to continue with its low interest rate regime to bolster growth.
Europe was severely hit by the global financial meltdown with many member countries slipping into recession -- generally defined as two consecutive quarters of negative growth.
Earlier in the day, Germany's Federal Statistical Office (Destatis) said the recovery of the country's economy 'lost momentum' at the end of 2009.
". . . the gross domestic product in the fourth quarter of 2009 stagnated at previous quarter's level (zero per cent) upon price, seasonal and calendar adjustment," Destatis said in a separate statement.