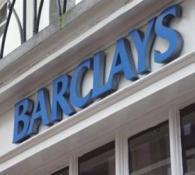 Financial services major Barclays Plc on Tuesday posted a robust profit of 6.87 billion pounds ($10.77 billion) for the three months ended December 31, 2009, driven by the sale of its Global Investors unit.
In the year-ago period, the company had a profit after tax of 824 million pound, Barclays said in a statement. The net income increased to 5.34 billion pound in the October-December quarter of 2009 from 2.68 billion pound in the same quarter last fiscal.
"We have strengthened our financial position considerably over the year in the areas of capital, liquidity and leverage and are well positioned to manage further changes that may be required of us by our regulators," the company's Chief Executive John Varley said. Barclays' profit was helped by the sale of its Barclays Global Investors unit to US-based BlackRock Inc in December.
The financial institution said it had a profit of 6.33 billion pound on disposal of Barclays Global Investors. For the year ended 2009, the company's net profit shot up to 9.39 billion pound from 4.38 billion pounds a year earlier.
The total income grew 34 per cent to 30.98 billion pound in 2009. Besides, Barclays' President Robert Diamond and its CEO Varley have advised the Board that they wish to reduce their annual bonuses.
Overall in global retail and commercial banking segment the company has generated an income growth of 7 per cent to 16.09 billion pound in 2009.
In emerging markets, including India, Barclays has posted a loss before tax of 254 million pound in global retail and commercial banking segment in 2009.
It had a profit of 141 million pound in 2008. However, its income increased 5 per cent with significant growth across Africa and the UAE.