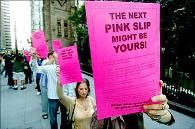 The still lingering global financial turmoil could push as many as 21 million more people into extreme poverty in the Asia-Pacific region, a joint report by the United Nations and Asian Development Bank said.
"In 2009, the crisis trapped up to an additional 17 million people into extreme poverty, and in 2010, another 4 million, giving a total of 21 million or roughly the equivalent to the population of Australia," the study, released in Manila said.
Those living on less than $1.25 a day are generally said to be in leading a life of extreme poverty and the most-affected are women, who account for a majority of Asia's low-skilled, low-salaried, and temporary workforce.
Noting that such people "can easily be laid off" during economic turmoils, the report said the crisis has reduced the demand for migrant labour -and women form nearly two-thirds of the total Asian migrant population.
According to the study, if fiscal stimulus packages have a strong component of social expenditures, the same would also boost growth. Further, long-term social protection can strengthen Asia's resilience against future shocks, it added.
However, in Asia, "only 20 per cent of the unemployed and underemployed have access to labour market programmes such as unemployment benefits, and only 30 per cent of older people receive pensions," the report pointed out.
The report has been prepared by the UN Economic and Social Commission for Asia and the Pacific (ESCAP), the ADB and the UN Development Programme (UNDP).
The UN-ADB study further noted that expanding Asian monetary and financial coordination would be particularly useful to reduce external shocks such as the ongoing global financial crisis.
"While fiscal stimulus is the most practical way of filling the gap left by declining exports, in the medium and long term, countries will need to generate domestic demand in a more sustainable way," the report added.
Moreover, the UN and the ADB have suggested that regional cooperation could include grain banks that are maintained in each country but readily accessible to others.
Countries could boost trade within the region by liberalising trade regimes and improving transport links, simplifying customs and inspection procedures, it noted.
"Asia has much weaker social protection compared to other regions such as Latin America and Eastern Europe," UN assistant secretary-general Ajay Chhibber said. Chhibber, who is also the UNDP Regional Director for Asia and the Pacific, added that without better protection people fall back into poverty with economic crisis, health pandemics and natural disasters and cannot recover easily.