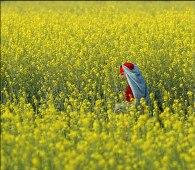 The government on Friday announced loans at a subsidised interest rate of five per cent -- two per cent less than market rate -- for farmers who pay their dues in time.
Announcing this in his Budget speech for 2010-11, Finance Minister Pranab Mukherjee also said that the credit target for the agriculture sector has been increased to Rs 3,75,000 crore for the next fiscal from Rs 3,25,000 crore 2009-10.
"In the last budget, I provided an additional one per cent interest subvention as an incentive to those farmers who repay their short-term crop loan as per schedule. I propose to raise this subvention for timely repayment of crop loan from one per cent to two per cent for 2010-11. Thus, the effective rate of interest for such farmers will now be five per cent per annum," he said.
Farmers get short-term crop loan of up to Rs 3 lakh at seven per cent interest rate. Mukherjee also said the Rs 71,000 crore farm loan waiver scheme, announced during 2008-09 budget, would be extended till June 2010 as it expired on December 31 2009.
The scheme, which covered four crore farmers, is on extension since June 2009 and the latest extension is on account of poor monsoon and drought-like conditions faced by farmers for most of last year.