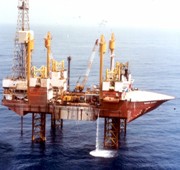 Oil and Natural Gas Corporation has been forced to exit from a gas block in Trinidad and Tobago after its partner Lakshmi N Mittal walked out of the project.
ONGC-Mittal Energy Ltd -- joint venture of ONGC Videsh Ltd and Mittal Investment Sarl -- had in 2007 won the offshore block North Coast Marine Area-2 (NCMA-2), that is estimated to hold in-place reserves of two trillion cubic feet, beating Britain's Centrica Plc.
But last year, Mittal Investment Sarl decided to exit the project possibly because of global economic downturn.
"When we had bid for the block in Trinidad and Tobago, we had consciously decided not to take more than 51 per cent stake. After the exit of MIS we had the option of doing the project entirely on our own but that did not fit into our scheme of things," an OVL official said.
OMEL had 65 per cent interest in the block while Trinidad and Tobago's state-owned oil firm Petrotrin had the remaining.
Under the initial agreement, OMEL was required to carry Petrotrin during the exploration phase (OMEL contributing Petrotrin's share of investment).
After the exit of MIS, OVL -- the overseas investment arm of ONGC -- would have to foot the entire $304 million exploration expenditure with Petrotrin not willing to share any risk.
"We tried to get an international energy firm as partner but did not succeed so we had no option but to exit the block," he said.
OMEL had also committed to pay a signature bonus of $30.1 million for the acreage, but this was never paid as the Production Sharing Contract was not concluded.
NCMA-2 was considered OMEL's second biggest success after Nigeria where the joint venture had acquired two exploration areas.
Mittal had identified Trinidad and Tobago as one of the eight priority nations for pursuing oil and gas opportunities exclusively with ONGC.
But of late, it has started exiting most of the investments, including a prospective Satpayev oilfield OMEL got in Kazakhstan.
ONGC and Mittal had in July 2005 inked a joint venture agreement for acquisition of oil and gas fields, refinery business and LNG projects in 27 countries.
The agreement had classified target countries into Schedule-I and II.
Mittal and ONGC had agreed to participate on an exclusive basis through OMEL in Schedule-I countries such as Angola, Azerbaijan, Indonesia, Kazakhstan, Romania, Trinidad and Tobago, Turkmenistan and Uzbekistan.
In Schedule-II countries of Bosnia, Canada, China, Czech Republic, France, Germany, Kyrgyzstan, Liberia, Sudan, Macedonia, Mexico, Nigeria, Poland, South Africa, UK and the US, the two partners agreed to bid jointly on a case-to-case basis.