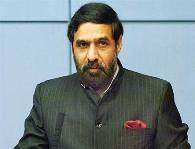 The centre will be cautious in withdrawing the fiscal stimulus packages given to key-sectors and will do so only after ensuring growth is sustainable in the economy, Union Minister for Commerce and Industry Anand Sharma said.
"We feel that we have to be cautious with our approach (on the withdrawal of stimulus). This will be done only after we ensure that there is sustainable growth," Sharma said. Given that there is still a pressure on export-oriented sectors from a crisis-hit global market, industry associations like FICCI and CII had recently urged the finance minister to continue the stimulus package for atleast six more months.
After completing its review of various sectors, the government is likely to announce further measures on Tuesday  to extend support to weak sectors, Sharma said, indicating that these sectors could include handicrafts, leather and apparels.
"We have completed the sectoral review. Which all sectors should be given assistance will be announced on Tuesday. We will see how leather, handicrafts and apparel sectors have performed," Sharma said.