Swiss drug manufacturer Novartis AG has been granted patent protection in India for Nilotinib, a superior version of blood cancer drug Gleevec (imatinib mesylate). It has been engaged in a legal battle with the government on the latter's decision to deny patent protection for Gleevec.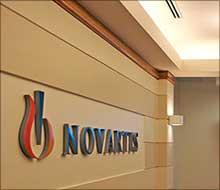 Novartis markets Nilotinib globally as Tasigna, which is used as the second-line therapy for Gleevec-resistant patients in the case of chronic myelogenous leukemia. The drug was approved in the US three years ago.
Experts said the Chennai Patent Office had granted patent number 237430 for Nilotinib and the name figured in the list of recent patents granted in the country.
The patent was issued against a mail-box application seeking patent protection filed in 2004. So far, no Indian company has challenged the patent, they added.
Said Gopakumar G Nair, a Mumbai-based patent attorney, "Nilotinib probably has 'sufficient enhanced therapeutic efficacy' and is not a 'known substance', which qualified it to get the patent."
Last year Novartis was denied patent for another form (alfa crystal) of Gleevec and a hypertension drug, which combined Valsartan and Amilodipine. Both applications were rejected citing Section 3(D) of the Patent Act.
Novartis challenged it and a case is pending before the Supreme Court.