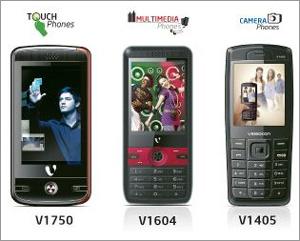 Diversified business group Videocon on Thursday said it aims to become one of the top three mobile handset manufacturers in the country this year.
After the soft launch of mobile sets in the south and west last year, the company is now aggressively planning to tap the northern and eastern markets within the next two months. "Our intent is to be among the top three in this space in 2010," Rahul Goel, chief, operating business, Videocon mobile phones division told PTI.
At present, international brands like Nokia, Samsung, Sony Ericsson and LG together have market share of over 90 per cent. India has a user base of over 500 million subscribers across the country with 10 million new users being added every month. "Mobile phone market has been one of the fastest growing market. However, there is a big gap between the international brands and domestic ones. We would like to bridge the gap," he said.
"We have made soft launches of our handsets in the southern and some parts of the western region. We will expand to Punjab, Haryana, UP and other eastern states. We are targeting sizeable sales of handsets by volume and value," he said.
At present, the company has introduced 12 models under the 'Videocon' brand priced within the range of Rs 1,400 to Rs 15,000.   "We have kept the price range very competitive covering almost all the sections of the society. Our product ranges from the very basic phones to dual and smart phones," Goel said.
Videocon, which recently started DTH service, expects its handset business to make significant contribution to its overall turnover in the near future. "We expect that the mobile segment will give a double digit contribution to our overall business," Goel said. When, asked if Videocon would be looking at bringing out 3G phones in the future, he said the company would be exploring opportunities for it.
"Depending on consumer requirement and the relevance of it, we will definitely look at bringing it out," he said. Besides, the company said it will go aggressive with its marketing campaign and is currently in talks with celebrities from the Bollywood and cricket space to endorse the products.
"We are looking at roping celebrities for our promotional campaigns. Besides, we have already activated marketing in the print and other media," he said.