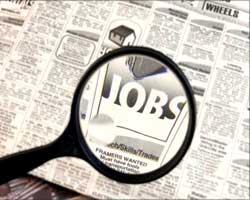 India Inc's hiring activity witnessed a slowdown in December, a fall of six per cent compared to the previous month, mainly due to year-end holiday season impacting employers' recruitment plans, says a survey by job portal naukri.com.
The naukri.com's monthly job index -- JobSpeak -- fell to 713 points in December 2009, from 760 in November.
However, the three-month average index reflected a more 'steady hiring scenario', the survey said.
On a three-month moving average basis, the job index (including jobs added and jobs refreshed) moved up by 0.5 per cent, it added.
"The decline in hiring activity in December is due to the end-of-the-year holiday season and we have witnessed this in the past years as well. As employers continue to express confidence and business sentiment grows one expects to see more opportunities in 2010," InfoEdge (owner of naukri.com) national head-marketing and communications Sumeet Singh said.
Moreover, a sectoral analysis clearly shows that hiring activity in the pharma and healthcare sector bounced back by 11.5 per cent in December, compared to November, after a successive dip in the sector index for the past four months.
In contrast, the demand for IT and ITeS professionals saw a drop by five per cent and 20 per cent in December 2009 over November owing to the end of year holiday season overseas.
Most of the cities saw a decline in jobs due to the holiday season. Mumbai, however, saw a 3.2 per cent increase in job index in December.
The BPO and IT sectors have seen decline in hiring activity by 18 per cent and 6 per cent respectively in December compared to previous month.
The oil and gas sector reflected a steady hiring activity in the reviewed month, while the three-month moving average index moved up by four per cent.
The survey also reported that banking professionals saw an upward movement in the index by four per cent in December compared to November.
Although hiring for IT and sales & business development professionals has contracted by 5 per cent and 3.8 per cent in December, the three-month moving average index indicates greater stability.
The index has been calculated based on job listings added to the naukri.com website month-on-month basis. July 2008 has been taken as the base month with a score of 1,000.