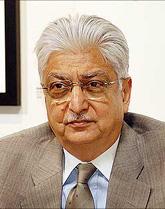 Wipro Ltd, India's third largest software and services exporter, is planning to invest Rs 600 crore (Rs 6 billion) on expansion in West Bengal.
The company plans to set up a new IT park near Kolkata and recently the company's chairman, Azim Premji, had signed an agreement with the state government to acquire additional land.
Wipro presently has two development centres in Kolkata and is now looking to expand further for its future requirements, Girish Paranjpe, joint chief executive officer, Wipro Ltd said.
"Presently, we have a strong presence in West Bengal. We have drawn up a long term plan for expansion in the state. We have just signed an agreement with the state government to acquire around 50 acres for our future expansion. Typically, on a 50-acre land we can create 20,000 seats. Each seat calls for an investment of about Rs 3 lakh and at this rate we may spend around Rs 600 crore there," he told Business Standard.
The company presently has enough seats at Kolkata to meet its immediate requirements and the investment may not happen immediately, he said.
"We already have facilities in Hyderabad, Pune, Chennai, Mumbai, Bangalore, Mysore and Noida. All state governments are very aggressive in promoting IT and we have offers to expand in other states. We will first utilise our existing resources before expanding in new locations," Paranjpe said.
Wipro also plans to increase headcount at its overseas development centres at Chengdu in China and Atlanta in the United States. They recruited 400 people in Atlanta in the last six months and going forward it plans to hire around 1,000 persons each in Chengdu and Atlanta, he added.
As of December 31, 2009, the company had 102,746 employees, an increase of 4,855 people over the previous quarter. Pratik Kumar, corporate vice president, human resources said the company was planning to visit around 100 campuses in search of talent.
"We do not have a target of how many people we are looking to hire. But we are looking at a mix of people from the campus like science graduates and wherever necessary experienced talent. It could be a blend of both. We will look at the best talent and bring them closer to our demand requirements," he said.
During the third quarter of 2009-10, the company registered a voluntary attrition rate of 13.4 per cent in global IT services compared to 10. 5 per cent in the last quarter and 11.9 per cent in Q3 in the previous year.
"It was not completely unanticipated. Last few quarters were quiet for us as far as attrition is concerned. We are seeing some hiring in various companies and it is expected that there would be an initial spike in attrition due to hiring. Hopefully what we have seen in the course of the quarter in terms of measures put in place like salary hike cycle in this quarter, promotion in subsequent quarters should put that in check," said Kumar.
The company did not disclose how much salary hike it is planning since it has not communicated it to employees yet but said it would be in line with what the industry was offering.
The company is also looking to sharpen its training focus. "Instead of increasing training, we want to make it more focused and relevant to make it more effective. A five to six month period is a long lead time for fresh talent to come into the company. We are looking at how we can optimise on that," added Kumar.