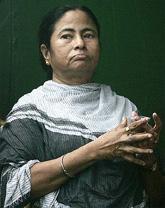 With the Indian Railways registering better-than-expected growth in traffic operations this financial year on the back of a revival in the economy, its gross domestic product is expected to cross the 9 per cent mark by the end of this financial year.
This could lead to a rise in the freight rates of some commodities, say officials in the ministry.
This would be the first time in the last five years that the railways' GDP (the term used to designate the revenue from freight and passenger traffic)  growth is expected to cross the national GDP growth estimate, of 7 per cent.
A senior official in the ministry said: "Since October, growth in freight traffic has been in full swing. Elasticity of rail transport is more than 1 at present, which indicates that railways' share in goods traffic has increased."
Rail elasticity is an indicator of the railways' share in the transportation market. When rail elasticity is less than 1, it implies that the share of railways in the overall freight market is on a decline. When the elasticity is more than 1, it indicates that railways' share is expanding.
Historically, the elasticity of rail transport was at an all-time high now, he added. In 2008-09, the figure had hovered around 0.8. Studies made by the ministry, show the elasticity of rail transport to the overall GDP for the period from 1970-71 till 2008-09 at 0.79.
With the market on a revival mode, railways plan to make their pricing policy for freight traffic more dynamic.
An official in the ministry informed: "Due to the economic slowdown, we had kept freight rates stable this financial year. We had concentrated on capturing long-lead traffic instead. Now with market conditions improving, there is room for the railways to rejig freight rates so that we get more revenues."
Sources close to the development say it is likely that in the coming financial year freight rates for iron ore will be hiked by as much as 10 per cent and those for coal and cement by 5 per cent.
Assuming that railways transport the same amount of these commodities as targeted till March, it would result in additional earnings to the tune of over Rs 2,200 crore (Rs 22 billion) for the national transporter.
Akhileswar Sahay, president of the infrastructure advisory division of project management firm Feedback Ventures, said: "In the long run, it is only viable that the railways make their pricing policy flexible and market-driven. Along with that, attention should also be paid to broaden the commodity base."