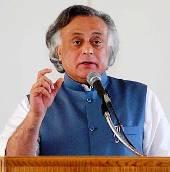 The Ministry of Environment and Forests, which, in the last few weeks, has not shared cordial ties with other ministries -- namely coal, civil aviation and transport -- has finally found a friend in the Ministry of Human Resource Development.
The two signed an agreement on Monday to study and clean the Ganga.
"Our collaboration with MHRD shows that MoEF has some friends in other ministries," said Environment Minister Jairam Ramesh.
The ministry signed a memorandum of understanding with a consortium of seven Indian Institutes of Technology to prepare a comprehensive basin management plan for rejuvenation of river Ganga.
It is for the first time that all IITs have come together for a national project. The Ganga flows through Uttar Pradesh, Uttarakhand, Jharkhand, West Bengal and Bihar.
"As you reach out to more ministries, they will become your friends," remarked education minister Kapil Sibal, adding, "This is not only a solution for the Ganga but a road map for other basins around the world. There should be courses on water management in all institutes and central universities. In fact, one innovation university should be based on environment."
With a cost of Rs 15 crore (Rs 150 million), the consortium will prepare its river basin management plan in the next 12-18 months.
The project is being prepared under the National Ganga River Basin Authority. This is headed by Prime Minister Manmohan Singh and includes chief ministers of states through which the river flows.
Under the NGRBA, projects worth Rs 1,400 crore (Rs 14 billion) will be implemented, including  projects worth Rs 800 crore (Rs 8 billion) in Uttar Pradesh and Rs 140 crore (Rs 1.4 billion) in West Bengal.
This National Ganga River Basin Management Plan Project will ensure the river flow is continuous (Aviral Dhara), has longitudinal and lateral connectivity and adequate space for its various functions, but is not seen as a carrier of waste loads (Nirmal Dhara).
The management plan will outline the strategy and actions that need to be undertaken for the maintenance and restoration of the Ganga basin, taking into account the constraints of population, urbanisation, industrialisation and agricultural activities.
In the last 20 years, Rs 900 crore (Rs 9 billion) has been spent on the Ganga Action Plan.
No new private helipads, says environment minister
New private helipads will not be given clearance by the environment ministry, as they violate permissible noise levels.
"It's a strict no-no for a new private helipads as they violate noise norms. Only government-owned helipads will be given clearances," said Jairam Ramesh while replying to a query on the status of Maharashtra's plan to set up helipads on the rooftop of buildings.
"As long as the Maharashtra government uses such helipads for medical emergency or security-related needs, we have no problem. However, any private helipad for private use or, for that matter, even for public use will not be allowed.
"Also, we want to make clear that public helipads will have to be used exclusively for the public purpose and not to serve private interests.
"The notion of having private helipads does not make any sense to me when we are talking about equity and equitable access to atmospheric space."
Image: Jairam Ramesh