Software major Microsoft Corp plans to lay off a number of employees as early as this week, says a media report.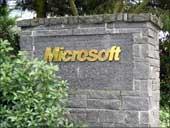 "Microsoft Corp is planning to lay off a small number of employees as early as this week," The Wall Street Journal reported, citing a person familiar with the matter.
However, the size of the job cuts could not be ascertained, the report noted.
According to the publication, the number of people affected by the job cut would be far less than the 5,000 employees laid off by Microsoft last year.
The layoffs are expected to be dispersed throughout the company, it added.
Microsoft's previous cuts were the first mass workforce reduction in the company's history, driven by the global economic downturn and a severe slowdown in corporate technology spending.