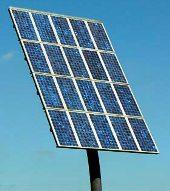 The Centre would award 100 Mw solar power projects under the Jawaharlal Nehru National Solar Mission by August this year for which several states, including Andhra Pradesh, have expressed interest, said Uttam Kumar Reddy, chairman, Solar Manufacturers Association of India.
He said a number of proposals for setting up large and small solar/PV plants have been submitted by public and private companies to achieve the 1,100 Mw target in Phase I of the National Solar Mission.
With over Rs 17-crore (Rs 170-million) investment needed per Mw of solar power, an estimated Rs 18,000 crore (Rs 180 billion) investment would come in the Phase I.
The mission aims at having 20,000 Mw by 2022.
The present installed capacity is a mere 10 Mw. However, the recent policy initiatives will result in bigger projects coming up, said Prasad, who is also the convenor of Solar Con India 2010, a three-day conference on solar power to be held here from July 28.
However, the companies on the other hand are facing difficulties in finding investors or getting funds from the banks.
"For a conventional power project, the power purchase agreement is the collateral for the banks to finance," he said.  The Power Finance Corporation and Indian Renewable Energy Development Agency are the two channels available now for funding solar projects.
The Centre has fixed the cost of one unit of solar power at Rs 17.90. Of this, it provides Rs 12.40 while the local discoms where it is connected to the grid should pay Rs 5.50, according to Sathya Prasad, president, SEMI India, a photovoltaic industry organisation.
About five acre is needed for producing a Mw.
"The gird connectivity is still a problem in rural areas. The investments increase due to the land cost if the solar farm comes closer to the town," he said, adding it would take ten years for the solar power to attain grid parity.