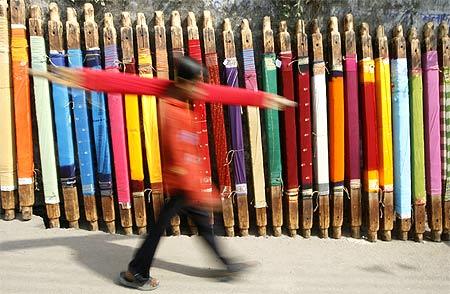 India will be able to bag extra orders worth $three billion for garment exports from the European Union, if the country enters into a Free Trade Agreement with the EU, apparel exports body said on Monday.
"The India-EU Free Trade Agreement (FTA) will also help generate 2.5 million jobs in the textiles and garments export sectors and we would be able to export apparel worth an additional $3 billion to EU," chairman of the Apparel Export Promotion Council (AEPC) Premal Udani said.
India exported garments worth $5.68 billion to EU, accounting for 55 per cent of the country's total apparel shipments in the calendar year 2009, he said.
Inaugurating the India International Garment Fair here, textiles secretary Rita Menon expressed hope that the FTA with EU would be concluded by the end of the current fiscal.
"We have taken it (about India-EU trade talks) up with the commerce secretary. I do hope that by the next fiscal, there is something in store for the textile sector," she said.
Referring to the opportunities in the section, Udani said the industry can take advantage of labour shortages and high cost of production in China, which is India's strong competitor in the global apparel market.
"In China, labour cost is 20 per cent more than India. This is the greatest chance we have and I hope that we will be able to seize it," he said.
The India-EU trade-opening pact is under negotiations for the last two years. Several rounds of official level talks have taken place.
The total bi-lateral trade in the previous fiscal was $74 billion.