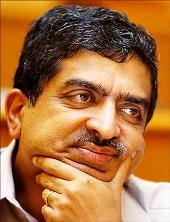 The Unique Identification Authority of India on Tuesday expressed its keenness to join hands with the Department of Food and Public Distribution to reform the public distribution system by opening online food accounts using the unique identity number (christened 'Aadhaar').
"PDS can leverage the Aadhaar authentication and we are keen to engage with PDS. Aadhaar-linked authentication will enable individual entitlements.
"Aadhaar authentication shifts the system from a push to a pull model and we need to apply a replenishment model in PDS," UIDAI Chairman Nandan Nilekani said this while addressing a conference of food secretaries on best practices and reforms in targeted public distribution system in New Delhi on Tuesday.
The conference was to launch a pilot scheme on smart card-based delivery of essential commodities under the targeted PDS in Haryana and Chandigarh.
"Technologies such as global positioning system should be for tracking of movement of PDS commodities, bar-coded ration coupons, measures to digitise the ration card database and smart-cards for beneficiaries, biometric identification," Food and Agriculture Minister Sharad Pawar said.
Image: Nandan Nilekani