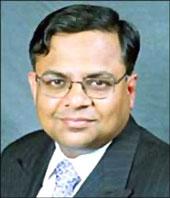 Tata Consultancy Services Ltd informed the Bombay Stock Exchange on Wednesday that its revenues for the first quarter of 2010-11 increased by 6.21 per cent over the previous quarter to Rs 8,217 crore (Rs 82.17 billion). The IT major's Indian GAAP consolidated net revenue was up 14 per cent year-on-year.
The company's net profit however was down 4.51 per cent at Rs 1,906 crore (Rs 19.06 billion), quarter on quarter, but was up 24.3% year-on-year.
Highlights:
Operating Profits at Rs 2245 crore; Growth of 24.6% YoY and 3.7% QoQ.
Dividend Per share of Rs 2
Earning Per share of Rs 9.71.