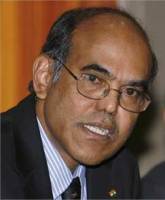 The Reserve Bank of India said on Tuesday it expects both the lending and deposit rates to go up following its decision to raise key policy rates to check inflation which is in double-digits.
"We expect credit to be dearer. . .As credit demand picks up, we expect lending and deposit rates to go up," Governor D Subbarao told reporters after releasing the first quarterly review of the monetary policy in Mumbai.
To stamp on inflation, RBI raised its key short-term lending and borrowing rates by 0.25 per cent and 0.50 per cent respectively.
The increase in short-term lending rate (repo) to 5.75 per cent and short-term borrowing rate (reverse repo) to 4.5 per cent will be effective immediately.
The RBI said banks increased their term deposit rates by 75-100 basis points between March 2010 and July 16.
On the lending side, benchmark prime lending rates of scheduled commercial banks remained unchanged during July 2009 and June 2010.
Image: D Subbarao