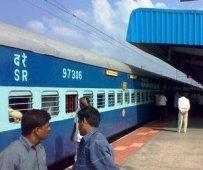 Indian Railways mull the sale of e-tickets on its portal which will end Indian Railway Catering and Tourism Corporation Ltd's monopoly in e-ticketing business and provide multiple booking avenues to rail passengers.
Highly placed sources in the Railway Ministry said the new facility will be one of the several passenger-friendly features planned to be rolled out before the Dussehra festival this year that falls towards September end.
The decision, if materialises, could be yet another setback for IRCTC, thanks to the new catering policy unveiled recently which stripped the Railway public sector unit of its catering responsibility that formed its core business.
While the PSU made a business of approximately Rs 450 crore (Rs 4.5 billion) from catering during the last financial year, it earned Rs 122 crore (Rs 1.22 billion) from selling e-tickets.
Currently, thirty per cent of all rail bookings are done through IRCTC website. CRIS, the IT arm of Railways, is understood to be already working on providing e-ticketing facility on Indian Railways website www.indianrailways.gov.in.
Sources said passengers would stand to gain from such a move as getting access to IRCTC website was proving difficult especially during initial hours in the morning when booking commences.
Railways had recently banned IRCTC web-based agents from accessing tatkal bookings after complaints that they were corning the berths to sell them at a premium.
Apart from providing e-ticketing facility, the website will provide information about booking positions in waiting rooms, journey planners and others, sources said.
The website itself will sport a new look before the Dussehra festival.
IRCTC, on its part, has decided to roll out several other tourism packages keeping the upcoming festival season in mind and to leverage on its position in the rapidly growing tourism industry.
This apart, it would embark on plans to expand the packaged drinking water business.
During the last financial year, it earned approximately Rs 50 crore (Rs 500 million) from the 'rail neer' business.