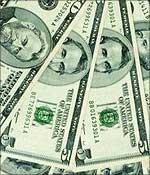 The rupee on Tuesday crashed by 80 paise, the biggest single-day fall in 15 months, against the US currency on a sudden bearish turn in equities amid stronger dollar overseas.
Dollar buying by banks, to meet their clients demand, and corporates on expectations of further rise in dollar abroad due to current global crisis, also weighed on the rupee, dealers said.
In fairly active trade at the Interbank Foreign Exchange market, the domestic unit closed at 47.16/17, a steep fall of 1.73 per cent.
Earlier, the rupee had ended lower by 81 paise on March 2, 2009.
The benchmark Sensex slumped by 372.60 points, or 2.20 per cent, on worries over the slow down in China's and South Korea's economic growth.
European stocks too were trading sharply lower while US stock index futures indicated remarkably weak opening on doubts over the global economic recovery.
Some euro zone countries also expanded at a sluggish pace in May. As a result, it forced investors to come out from the riskier assets and go for dollar that rose to a 15-month high against a currency basket.
Meanwhile, global crude oil was trading near $72 a barrel in London on Tuesday.
The benchmark six-month forward dollar premium payable in October dropped to 51-53 paise from 55-57-1/2 paise on Monday and far-forward maturing in April also dipped to 92-1/2-94-1/2 paise from 101-1/2-103-1/2 paise previously.
The Reserve Bank of India fixed the dollar reference rate at Rs 46.69 and for the euro at Rs 57.26.
The rupee reacted downwards against the pound, the euro and the yen.
The rupee plunged against the pound to close at Rs 68.83/85 per pound from Monday's close of Rs 67.16/18 and also declined against the euro to Rs 57.39/41 per euro from Rs 57.02/04 previously.
It slumped against the yen to Rs 51.81/83 per 100 yen from its last close of Rs 50.65/67.