Austrian Airlines will introduce flights connecting Mumbai and Austrian capital Vienna from October this year. The airline, which is part of the Lufthansa Group, also plans to add an additional flight on its New Delhi-Vienna sector, a company press release said here on Wednesday.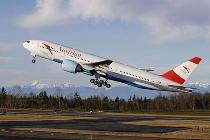 "From October 31, 2010, Austrian Airlines will be flying from Mumbai to Vienna and offer tailor-made connections to Europe and beyond," the release said. Austrian Airlines covers over 139 destinations worldwide and has the largest network in Europe.
In Vienna, passengers have access to Austrian's 104 destinations across Europe, the release said.
The airline is also expanding the frequency of flights on its existing route from New Delhi to Vienna from five to six from this year winter, it said.
The Vienna arrivals will also be co-ordinated with connections to Austrian destinations throughout Western, Central and Eastern Europe, the release said. Following the introduction of these services, Lufthansa Group - Lufthansa Airlines, Austrian Airlines and Swiss Air - would be operating over 70 flights per week in and out of India.