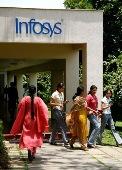 Infosys BPO has picked up this year's North American Shared Services Excellence Award for best new outsourced services, for handling advertising production work of its client McClatchy's newspapers that include Kansas City Star.
The award was jointly awarded to Infosys BPO and McClatchy, which also publishes Miami Herald.
The advertising outsourcing deal was signed in 2008. Infosys BPO created quite a buzz at the awards, presented at Orlando, Florida, on March 26, when it also picked up the runner-up award in the same category.
The runner-up title was given away jointly to Infosys and another of its clients Procter & Gamble.
"This is a significant honour, given that the awards are open to end-users as well as captives and outsourced shared services organisations from all countries," Infosys BPO's COO Ritesh Idnani said.
Infosys BPO is the outsourcing subsidiary of Indian software exporter Infosys Technologies.
The awards were part of the 14th Annual North American Shared Services and Outsourcing Excellence Week, attended by over 900 leaders in the shared services and outsourcing industry.