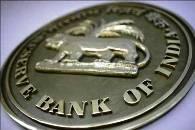 Reserve Bank deputy governor KC Chakrabarty on Monday said the chances of interest rate hikes by the central bank is always there as policy measures depend on the changing economic scenario.
"The policy measures from the central bank will depend upon the changing economic environment...the possibility of rate hike is always there," Chakrabarty said.
The deputy governor was replying to a query on whether the RBI could take any monetary policy action to contain the double digit inflation before its scheduled policy review meeting on July 27.
Inflation hit double digits as it rose to 10.16 per cent in May from 9.59 per cent in April due to elevated food prices and certain manufactured items like metals turning expensive.
In fact, the final inflation figure for March was also revised upwards to 11.04 per cent from 9.9 per cent estimated earlier. Chakrabarty said inflation is expected to come down in the near term but added the central bank is not sure at the moment about the degree of impact of fuel price hike on inflation.
"Yes, it (inflation) will come down," he said adding the inflation target will be revisited at the policy review. As of now, RBI expects inflation rate to come down to 5.5 per cent by March next.
On base rate implementation, he said the new regime will be implemented by July 1 as stated earlier but it is up to the banks to make their customers aware about the new benchmarking system.