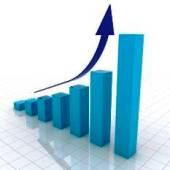 Corporate banking heads are a happy lot these days. And it's not just because of the spurt in credit demand -- credit growth has improved to 15 per cent from a low 10 per cent in October 2009.
Companies are approaching them again with capacity expansion proposals, suggesting a more durable basis for an economic turnaround.
Bankers are excited because the proposals are not just from infrastructure companies building power plants, roads or telecom services, but other sectors as well.
Janak Desai, head of corporate banking, ING Vysya Bank, said he has received proposals from sectors as varied as glass-making, pharmaceuticals and hospitals.
Some of the companies want to diversify, he said, and others want to funds for backward or forward integration.
"The mood is much more positive today. In the last two months, I have heard more clients talking about capex than in the whole of last year,'' said Desai.
A Subba Rao, CFO, GMR Group, said companies that held back projects last year are now gung-ho on capex. ''You already see lots of projects in roads and power; you will soon see all-round investment activity,'' said Rao.
He said banks are making sanctions, which will be reflected in disbursals in six months.
S Pujari, GM (credit), Dena Bank, reports a slight pick-up in demand. ''Project loans are getting disbursed. Both sanctions and disbursals are taking place,'' he said.
This is in contrast to the position a few months ago when many companies took sanctions but did not draw the loans because they were worried about recession.
"Now, the confidence is back, and the capex picture will get clearer in a month," he added.
A good signal of a turnaround in investment demand is the spurt in the order books of capital goods manufacturers. ''If one goes by this measure, the capex cycle seems to be turning,'' said Andrew Holland, CEO-institutional equities & equity proprietary trading, Ambit Capital.
The top five projects-based capital goods companies reported a 22 per cent growth in their order book in the quarter ended December 2009.
These include companies like BHEL, L&T, Suzlon Energy, Siemens and KEC International.
"Many infrastructure companies are getting into FY11 with huge order books. They are going to see bigger ticket sizes, up from $25 million to $100 million,'' said Holland.
This fiscal, the government's highway authority has awarded road projects worth Rs 40,000 crore, and the construction companies concerned are busy tying up funds.
This will provide a big push to capex since work on half of them will start by April-June, said IRB Infrastructure CEO Virendra Mhaiskar.
''It's a substantial jump over last year,"Mhaiskar said, adding that the government plans to award road projects worth another Rs 25,000 crore this year.
Bankers say there's good traction in infrastructure projects in telecom, power, roads. Jimmy Tata, head of corporate banking, HDFC Bank said that credit demand from the infrastructure sector is growing at 40 to 45 per cent year-on-year, thanks partly to the base effect, and it accounts for 30 per cent of all credit flow, up from 20 per cent earlier.
''If you look at IIP data, one place you can see traction is transportation,'' said Tata.
Besides commercial vehicles and buses, bankers see rising demand for construction equipment. Tata added that several automobile makers have four-digit capex programmes.
The index of industrial production grew 16.8 per cent in November and 11.8 per cent in December.
Issac George, CFO, GVK Group feels that robust growth in industrial output would spur investment in manufacturing. With output for consumer durables growing 32 per cent last month, George predicted that expansion will follow ''Demand will spur investment. The confidence is coming back,'' he said.
Bankers are also more comfortable lending now because several companies reduced their leverage by bringing in more equity during the slowdown.
''The relative comfort of lenders is much higher today than what it used be during the downturn,'' said Desai. As a result, he said bankers are confident of the recovery and are willing to finance companies with a sound business case.
Bankers say India Inc has a large build-up of cash -- Larsen & Toubro, for instance, is sitting on cash of Rs 8,000-9,000 crore (Rs 80-90 billion) -- which can take care of their capex needs for six months. But many are keen to borrow now fearing rising interest rates.
"They would like to lock in at lower rates,'' said HDFC Bank's Tata.