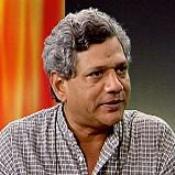 Observing that it will take another half a decade for the country to fully recover from effects of economic slowdown, senior CPI (M) leader Sitaram Yechury said increased spending on infrastructure sector could help accelerate the pace of growth.
"We would feel the pain for the next half a decade," he said an interactive session on when asked how long will it take the country to recover and attain a growth rate it saw prior to 2005-06.
Yechury, however, felt India was not as badly hit as other Western countries because it was relatively more insulated than other economies of the world.
"To that extent, I think we could prevent the devastation from taking place in the manner in which it happened in the West and other countries," he said at the Mindmine Summit, attended by captains of Indian industry.
The Left's role in opposing three crucial bills when they were supporting the previous UPA government also saved the country from the economic meltdown, he claimed. "We did not allow three very crucial bills that would have integrated us completely with the global financial market.
That is full convertibility, banking reform and FDI in insurance sector," he said. He said the increased flow of money into the economy during the last general election and the implementation of the Sixth Pay Commission also played a big role in shielding the Indian economy.
Yechury emphasised on paying more attention towards the domestic market and increased funding on infrastructure to help the country attain a nine per cent growth rate.