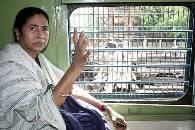 The opposition parties, the BJP and CPI-M on Thursday dubbed the Railway Budget "imaginary" and "document of dreams" as there was no allocation for completion of various railway proposals in it.
Resuming the discussion on Railway Budget 2010-11, Shyamal Chakraborty (CPI-M) said though an impression has been created that the Railway Budget has given too much to West Bengal, there was nothing in reality.
He said while Railway Minister Mamata Banerjee had announced opening a new metro station Nanur, her deputy has said no such station exists in Kolkata. Similarly there are no station called Rashbihari or Park Circus, whose names she proposed to change.
This prompted Chakraborty's party colleague Brinda Karat to remark that the Budget was imaginary. In a tongue in cheek remark, Chakraborty said Banerjee has now proposed to change the red colour of railway stations as "she is afraid of the colour. Congress members should now be ready to hear that she would say the colour of the Red Fort should be changed."
Describing the Budget as unrealistic and a document of dreams, Vijay Kumar Rupani (BJP) said with fuel price hike, railway's profit pegged at Rs 9,782 crore (rs 97.82 billion) will come down and sought to know from where money will come for new proposals. Kaptan Singh Solanki (BJP) said the Budget is "fully political" and has been made keeping in mind the upcoming elections in West Bengal.
"Is this Budget for the development of the country or for entering the Writer's Building (seat of power in West Bengal)," he wonder.