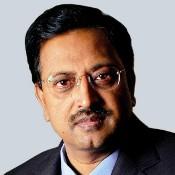 A Hyderabad court on Friday ordered the initiation of proceedings against the former directors of Satyam Computers in a case filed by Serious Fraud Investigation Office (SFIO) after separating the trials against B Ramalinga Raju and Ram Mynampati.
The SFIO, which filed seven complaints against 11 directors in the Satyam accounting fraud case in the Special Court for Economic Offences in December last year, has been investigating the role of the accused in the scam.
Judge T Rajani split up the case against Raju and Ram Mynampati, former whole time director, after they did not appear before the court and ordered start of the proceedings on examination of other accused and later adjourned the case to March 23.
Ramalinga Raju, who is undergoing treatment for hepatitic ailment at a hospital, did not appear before the court while summons issued to Mynampati have not yet been served on him.
Company Prosecutor (SFIO counsel) C Raghu said fresh summons will be issued through the court against Mynampati and served through Indian Embassy in the United States as he is believed to be in that country.
Meanwhile, the court admitted the petitions of Vinod K Dham, Krishna G Palepu and G Jayaraman, for special vakalat (memo of appearance).