Over 100 US Congressmen have asked the Obama administration to label China as a "currency manipulator", as the communist nation's fixed exchange rate policy threatens America's economic recovery and the stability of the global financial system.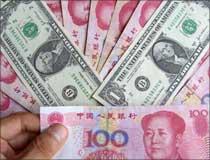 "...China's exchange-rate misalignment threatens the stability of the global financial system by contributing to rampant Chinese inflation and accumulation of foreign reserves," 130 US Congressmen said in a letter on Monday.
The letter written to US Treasury Secretary Timothy Geithner and Commerce Secretary Gary Locke, has called for labelling China as a "currency manipulator" and also slap countervailing duty on Beijing.
The letter, signed by 130 lawmakers, was sent by Timothy Ryan and Mike Michaud.
Recently, Chinese Premier Wen Jiabao had rejected complaints about the country's exchange rate regime.
"The impact of China's currency manipulation on the US economy cannot be overstated... As we work to promote a robust US economic recovery, it is imperative that we address this paramount trade issue with all available resources," the letter said.
According to the lawmakers, by pegging the renminbi to the US dollar at a fixed exchange rate, China is unfairly subsidising its exports and creating disadvantages for foreign imports.
They noted that acting against Chinese currency manipulation would also help in boosting US economic recovery.
The US government should take decisive action against China's currency manipulation, including potential filing of a formal WTO complaint, the letter added.
"Addressing China's manipulation of its currency must be a critical part of our strategy to rebuild our economy and establish safeguards against future financial crises," the letter pointed out.
Moreover, the lawmakers noted that devaluation of the RMB also exacerbates the already severe US-China trade deficit.
The letter urged the Treasury Department to include China in its bi-annual agency report on currency manipulation.
Once that country is labelled as a currency manipulator, "Treasury should enter into negotiations with China regarding its foreign exchange regime," it added.
Further, the 130 lawmakers have urged the Commerce Department to apply the US countervailing duty law, defending American companies that have suffered due to currency manipulation.