Commerce Minister Anand Sharma on Monday expressed optimism that the total FDI inflows this fiscal will the same as in the previous year's at $27 billion.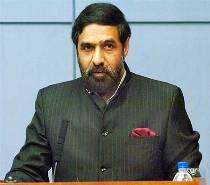 "India will be able to attract the same amount of FDI as last year," Commerce and Industry Minister Anand Sharma told reporters on the sidelines of the Asia Gas Partnership Summit, organised by FICCI, here.
In 2008-09, India had received $27.3 billion worth of foreign direct investment.
The FDI inflows to the country were impacted since October 2008 due to the global credit squeeze and it was only in October this fiscal the inflows started improving.
FDI was $2.33 billion in October 2009, about 56 per cent up over the same month last year, while in November it surged by 60 per cent to $1.73 billion. The increase was 13 per cent to $1.54 billion in December.
During April-December 2009-10, the foreign inflows declined to $20.92 billion from $21.15 billion in the corresponding period last year.
Speaking at the Summit, Sharma said the government wants the share of the manufacturing sector to grow to at least 22 per cent of the GDP from the present 16-17 per cent.
"We want manufacturing share of the India's GDP to grow by at least six percentage points more to 22 per cent," he said while expressing concern that the share of the sector in the GDP has not picked up since 1990s.
On the issue of bio-fuels, Sharma said India was against the use of food grains in bio-fuel as there was a global food shortage and 850 million people in the world sleep hungry.
"Bio-fuel yes, but not edibles and what that comes out of grain," he said.