The government on Tuesday said tax revenue declined to 10.4 per cent of GDP estimated for this fiscal, from 12 per cent during 2007-08, because of global economic meltdown and stimulus packages provided to industry.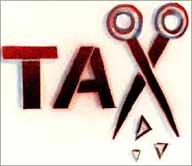 The government had estimated tax revenue to increase to 13 per cent in 2008-09, from 12 per cent a year ago, but it declined to 10.9 per cent and further to 10.4 per cent as per Budget Estimates for 2009-10, according to the figures given by Finance Minster Pranab Mukherjee in a reply in the Rajya Sabha.
He said the decline in tax-GDP ratio can be broadly attributed to global economic meltdown, remedial steps taken by the government to protect the Indian economy, several tax cuts announced since 2008-09 as fiscal stimulus packages to boost the aggregate demand, revive the Indian economy.
Meanwhile, to a query on the cases pending with tax tribunals, Minister of State for Finance S S Palanimanickam told the upper house that while over 150,000 cases, involving over Rs 200,000 crore (Rs 2 trillion), is pending with CIT (Appeals), the Customs, Excise and Service Tax Appellate tribunal is yet to dispose of 47,000 cases, aggregating Rs 31,135.91 crore (Rs 311.36 billion).