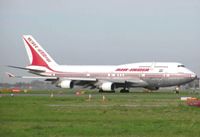 The austerity drive of the government will be partially rolled back from next month.
In another sign of economic recovery, the government said on Monday air travel on government account, starting April 1, would be according to the entitlement of the minister or official.
"The matter has been reviewed and it has been decided that with effect from April 1, travel on government account by air, both domestic and international, may take place by the entitled class," the finance ministry said in an office memorandum.
However, the austerity measures will remain in place for travel by air, wherever allowed, on leave travel concession. This would continue to be restricted to economy class irrespective of the entitlement.
On September 7, 2009, the government had instructed all its departments not to travel first class within or outside the country on government account.
It had said all domestic travel on government account by air would take place only by economy class, irrespective of entitlement.
The austerity measures were announced as part of the government's efforts to deal with the global economic meltdown.
While Finance Minister Pranab Mukherjee had often urged other ministers to make the initiative a success, the idea had not gone well with his Cabinet colleagues.