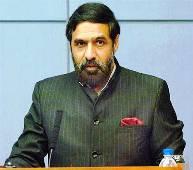 Anand Sharma is likely to continue as the Union minister for commerce and industry, although his Rajya Sabha term comes to an end next month.
Top Congress sources hinted on Thursday that Sharma will not have to resign as the party would re-nominate him by July. He is likely to get his third term in Rajya Sabha from Maharashtra or Andhra Pradesh.
While a section of the Congress is trying to cite 'parliamentary norms' and 'practices' to force Sharma to step down temporarily, government managers don't see any reason to create these 'unnecessary complexities'.
"It is only a matter of two months -- then the party will bring him back in the Rajya Sabha. There is no pressing need for Sharma, who holds a very important cabinet berth, to quit his position."
The other group, however, points out there is no precedence in the Union cabinet fora minister to conitnue in the council of ministers without being a member of Parliament.
There are however, several instances where a minister is first inducted in the Cabinet and after a few months, becomes a member of Rajya Sabha or wins a Lok Sabha seat.
According to the law, a minister can continue for six months without being an MP but he will have to get elected to Parliament by that time.
Sharma is the lone minister who hasn't found an immediate slot for re-nomination in this phase of the Rajya Sabha polls. A K Antony and M S Gill -- the two other ministers have been elected from their respective states of Punjab and Kerala.
Many eyebrows were raised when Ashwini Kumar was given the Rajya Sabha ticket from Punjab -- the seat eyed by Sharma for a smooth return to the Upper House.
Party sources told Business Standard, Kumar may be made a minister when the first reshuffle takes place sometimes around July.
Sharma's own state, Himachal Pradesh will offer just one slot in Rajya Sabha during this current phase and being the ruling party with majority MLAs in the assembly, the BJP is expected to win the seat. In June, however, 19 more seats will become vacant from states like Andhra Pradesh, Tamil Nadu, Chattisgarh, Madhya Pradesh and Karnataka.
Given the current party positions in these states, the Congress can bring Sharma in the slot of Communist Party of India-Marxist's P Madhu from Andhra Pradesh.
Madhu was elected to the Upper House in 2004 as the Congress compassionately gave away the seat to the Left.
But now, the party will field its own candidate as the Left has been dumped by the ruling party.
If he misses a nomination from Andhra Pradesh (six seats of the state will go for polls in June) because of local equations, Sharma will be given a slot from Maharashtra.
Minister of environment and forest Jairam Ramesh, however, is sure to come back to Rajya Sabha from Andhra Pradesh in June.
Other stalwarts like Mohsina Kidwai and B KHariprasad too, will get re-nominations.
Image: Anand Sharma