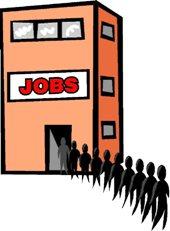 Employers in the US will remain hesitant on hiring as the American economy is witnessing a slow recovery and lower consumer demand, says a report.
Battered by the financial meltdown, which turned worse in late 2008, the American economy has seen millions of jobs losses.
"Employers will remain hesitant to hire amid a still- tepid economic recovery marked by the increased private savings and hesitant consumer demand," according to DB Research.
However, the report noted that there are some positive signs of a pending US labour market recovery, especially with increasing number of temporary work contracts.
DB Research, which is a part of German banking major Deutsche Bank, said that long-term unemployment would result in erosion of workers' skills and even lead to lower employability.
Going by the estimates, the US economy has shed a whopping 8.4 million jobs since the country officially slipped into recession in December 2007.
The economy started expanding again from the 2009 September quarter onwards. "Workers formerly employed in construction and auto sectors, where many of the jobs lost are not coming back, may require retraining in order to qualify for employment in other sectors," the report said.
Currently, the unemployment rate is hovering at over nine per cent. In the wake of the financial crisis, companies had resorted to massive layoffs as part of their efforts to cut down costs.
With improving economic situation, the Federal government is expecting to see about 95,000 new job gains this year.
"Even with its relatively optimistic gross domestic product growth assumptions (3.8 per cent annual GDP growth in 2010 and over 4 per cent in 2011-2013), the administration predicts the unemployment rate will remain over 5 per cent until 2016," DB Research noted.