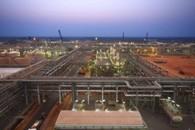 Reliance Natural Resources Ltd (RNRL) on Monday continued to slide, falling 9.47 per cent to touch a one year-low of Rs 47.75 on the Bombay Stock Exchange, after the Supreme Court ruled against the company in a gas dispute with Reliance Industries.
Shares of Anil Ambani Group RNRL had plunged 22.82 per cent to Rs 52.75 on Friday, after the Supreme Court rejected the company's plea for cheaper gas from Mukesh Ambani-led Reliance Industries Limited (RIL), saying the government had the sovereign right on price and utilisation of fuel.
On the National Stock Exchange, the stock fell to Rs 47.50, down nearly 10 per cent. A total of 4.27 crore (42.7 million) shares of RNRL changed hands on the two bourses in the morning trade.
Shares of Reliance Industries Ltd, however, surged 2.38 per cent to a high of Rs 1,058.50 on the BSE. The gain in heavyweight RIL helped boost investors sentiment and the benchmark Sensex was trading up 1.44 per cent, or 242.17 points, at 17,011.28 points at 1030 hrs.
The government has already fixed the price of gas from RIL's KG-D6 fields at $4.20 per mmBtu, compared to the $2.34 per mmBtu sought by Anil Ambani group firm RNRL.