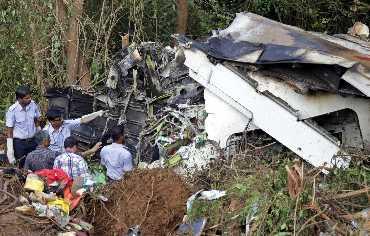 Air India on Monday said its subsidiary Air India Express' flight operations were in conformity with regulatory requirements and all its pilots and engineering staff are fully-qualified and trained to run operations in tune with international procedures.
"We wish to reiterate that Air India Express meets all regulatory requirements and has been always well-equipped to handle the operations and maintenance of its fleet to established standards," an Air India statement said.
The statement was issued after a section of the media reported that the commander of the Air India Express IX-812, which crashed in Mangalore last Saturday, had allegedly not followed the DGCA-laid down procedures for landing.
"Apart from independent administrative and technical staff, Air India Express has fully-trained and qualified pilots and engineers to run their operations," it said.
Moreover, Air India Express, being a part of the National Aviation Company of India Limited (NACIL) group, is fully supported by Air India in terms of infrastructure and services, the airline said.
It also said that Air India Express is an airline with an independent Air Operator Permit, owned and operated by a subsidiary of NACIL.
The airline's operations are, therefore, independently audited by Regulatory Agencies and the audits have been cleared regularly from inception to the satisfaction of the Regulatory Agencies," the national carrier said.
Air India Express' track record has been outstanding with its technical dispatch reliability being above 99.5 per cent, the statement said, adding Boeing, the manufacturers of the fleet, has also been very appreciative on this aspect.
"Air India Express has always been a world class low cost carrier ever since its inception," it added.